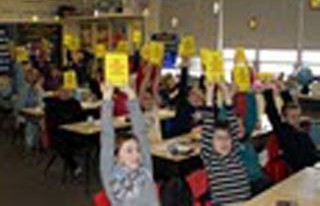 The Dictionary Project gives Mary Morgan Elementary students dictionaries
Over 125 third graders at Mary Morgan Elementary will eagerly accept the gift of their very own dictionary on Thursday.
This is the third year that the Rock River Valley Rotary Club has participated in The Dictionary Project. Rotary has a strong passion for literacy and this is just one tool that is used to help ensure that every young child has the means to improve their vocabulary and spelling skills.
Once they start flipping through the book the comments start flying. Students shout out things like,"did you see this dictionary has maps in it and it also has Roman numeral numbers too."
Some of the kids are even more excited because their older siblings had received one in the years prior and now they finally have their very own.
The idea of donating paperback copies of the dictionary to elementary school students began in 1992, when Annie Plummer of Savannah, Georgia, purchased 50 copies of the reference book as a gift for the children in her neighborhood school.
By the time she died in 1999, Plummer had raised enough money to provide more than 17,000 dictionaries to young people, and her idea had spawned a successful nonprofit organization called The Dictionary Project. To date, The Dictionary Project has provided more than 14 million books to young children nationwide.