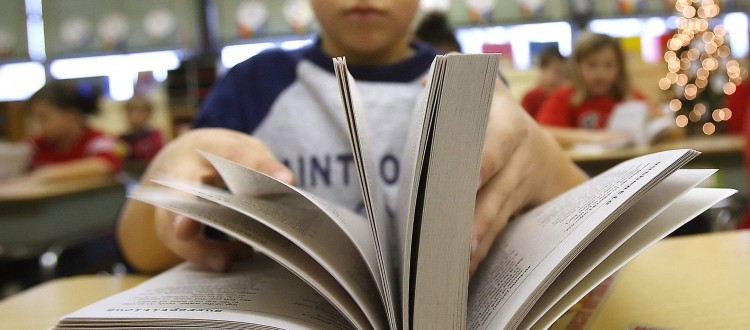 Florence Elks give the gift of words to St. Joseph students
Third graders at St. Joseph Catholic School are among those in Lauderdale County who received dictionaries Friday, compliments of Florence Elks Lodge No. 820.
The local project is part of a larger national effort through the Elks organization to get dictionaries in the hands of children through the Dictionary Project.
Elk members Jack Bush and Bill Goode delivered the books Friday to Andi Linville's class. Bush also gave the students pointers on how to take proper care of the bright yellow paperbacks, especially in protecting the binding.
Bush said his lodge tries to give students dictionaries every year. This year, fundraising efforts, combined with a $500 cash award the lodge won, went toward paying for the books.
Third graders at Riverhill, Shoals Christian and all Lauderdale County and city schools also received dictionaries.
"Statewide, 44,000 dictionaries were given away last year in Alabama," Bush said. "This year, all of the northwest Alabama counties were covered. We want to start these children out right, with their own dictionaries."
Linville said the dictionaries were a perfect gift for her class.
"We'll use them for our writing exercises and also to look up spelling words," she said. "They'll certainly be well used in class. They can take them home and use them in my class, so they're a really helpful tool."
Lauren Hamner loved her new dictionary and took extra time to print her name in it neatly.
"This is so cool," she said. "I'll use it at home and here at school. I really needed this dictionary because I like to read chapter books and they're hard sometimes. Right now, I'm reading Mary Poppins, and there are some words in there that I just don't know, so now I'll just look them up."
Lisa Singleton-Rickman can be reached at 256-740-5735. or lisa.singleton-rickman@TimesDaily.com.