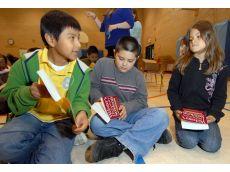 Group hopes donation will help define kids` futures
Allison Gant is nearing the end of a long but enjoyable task: delivering 2,000 dictionaries to third-grade students in Alamance County.
Gant is executive director of Alamance Citizens for Education, which is giving out the dictionaries with a $5,000 grant from the Hayden-Harman Foundation.
If you think a crowd of third-graders won`t get excited about dictionaries, you`re wrong– at least if you`re giving one to each of them that includes a sticker with their name inside the cover.
Gant was at Newlin Elementary School last week to deliver dictionaries to about 90 third-graders there.
`Whooooooaaa,` some of the students said when Gant told them each dictionary contains 32,000 words.
It`s the kind of reaction Gant gets a lot these days.
`It`s been extremely well received,` she said. Students are excited they get something they can take home with them, and `they love the gold sticker with their name.`
Besides being inscribed with their names, the stickers encourage the students to work toward graduating from high school. For those wondering, this year`s third-graders are the Class of 2017.
The dictionaries are paperback copies of Webster`s Dictionary for Students. Because they`re the special encyclopedic edition, they contain information such as a list of U.S. presidents and the Declaration of Independence. Some students got Spanish/ English dictionaries instead.
Gant talked with students about ways they can use the dictionaries to do their schoolwork and encouraged them to work hard so they`ll succeed in school and in their careers. A lot of hands went up when she asked students if they want to be teachers, doctors and race-car drivers.
Gant finished her deliveries to elementary schools in the Alamance-Burlington system on Friday with a trip to Smith Elementary in Burlington, and will wrap up the project on April 1 when she finishes delivery to independent schools in the county.
Every school in the county, public and private, was offered dictionaries for its third-grade students.
The $5,000 grant from the Hayden-Harman Foundation paid for the dictionaries and the gold stickers. The foundation supports local efforts that benefit education and other parts of the community. Besides the foundation and Alamance Citizens for Education, the stickers inside the dictionaries mention the Children`s Museum of Alamance County as part of the distribution effort.
The distribution is part of a national effort called The Dictionary Project. The organization`s Web site, at www.dictionaryproject.org, says more than 2.3 million students were given to students in 2007. Gant said third-grade students were chosen to get dictionaries because at that age, students are beginning to develop habits that will continue through the rest of their time in school.