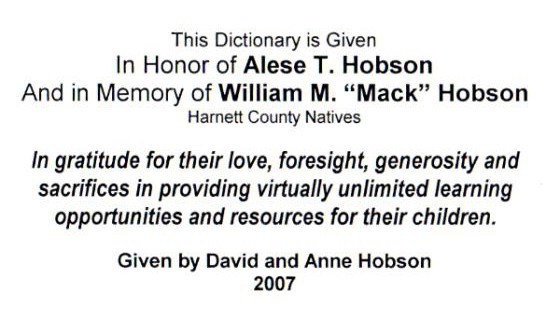 Third graders receive dictionaries
Third graders at 10 Harnett County primary and elementary schools recently received new paperback dictionaries, which were donated by David and Anne Hobson of Pinehurst, formerly of Dunn.
The 1,400 Webster's Dictionary for Students were donated by the Hobsons in honor of Hobson's mother, Alese Hobson, and in memory of his father, Mack Hobson, both natives and lifelong residents of Harnett County.
Mr. Hobson said that, when he was growing up, he and his brothers and sister were fortunate to have parents willing to sacrifice for themselves so that their children could have virtually every learning resource and opportunity available at the time. "I have been lucky, and I felt that I wanted to recognize my parents' foresight and generosity and to give something back to the community," he said.
"I remember that, as a child, my parents would drive me over to the Hobsons' to do research for school projects," said Anne Hobson, daughter of Jesse and Allene Alphin of Dunn. "The Hobsons had an extensive library of encyclopedias, dictionaries and other resource books–books we couldn't even find in the school library," she said.
Anne Hobson said it was rewarding to see smiles on the faces and delight in the eyes of the students as they received their own personal copies of the dictionary.
David Hobson said that the idea of giving dictionaries to third graders stems from a South Carolina nonprofit organization, known as The Dictionary Project, whose mission is to donate dictionaries to children and encourage them to learn new words so that they will be able to use the English language effectively.