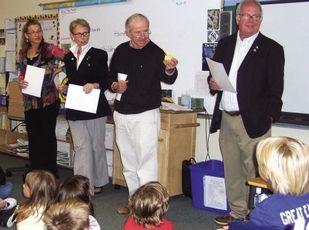 Kennebunk Portside Rotary Dictionary Project
Portside Rotarians recently visited Kennebunk Elementary School and Consolidated School in Kennebunkport to distribute more than 150 dictionaries to third graders. Ted Baker also visited The School Around Us to present third grade students with dictionaries. The dictionaries have a personalized label with each student`s name on the inside cover. Sue Gesing of Portside Rotary initiated the project by securing funding from Portside Rotary.
Club members who participated in handing out dictionaries at the local schools included Ted Baker, Peggy Belanger, Sandy Bisson, Rand Gesing, Sue Gesing, Dave Jourdan, Carolyn Lambert, Mike Manos, Dave Reid, Paul Rothman, Karen Schlegel, and Cornelia Stockman.
Rotary`s goals for the Dictionary Project:
1. Support literacy through the development of good reading skills.
2. Provide Rotarians a chance to interact with young people in our community.
3. Let kids know that the community cares about them.
4. Promote awareness of Rotary in the community.
Portside Rotary plans to continue this dictionary project every year. Rotary is a strong supporter of literacy and continues to contribute to local community efforts as well as international humanitarian projects.
Portside Rotary meets every Tuesday at 7:15 a.m. for their breakfast meeting at 32 North St., Kennebunkport.

Original Article available at :
http://www.seacoastonline.com/apps/pbcs.dll/article?AID=/20101118/LIFE/11180351/-1/NEWSMAP