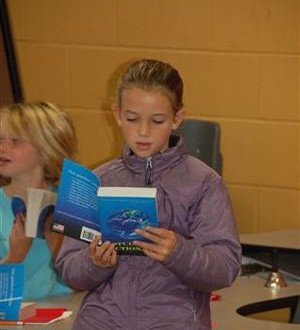 Spreading the words to local students
Stumped by a word? Third graders at Daniel Island School and Cainhoy School aren't. They can look up definitions in their very own dictionary. Thanks to the Rotary Club of Daniel Island, each third grader at the two schools in their area has been given his own dictionary.
The Rotary Club Dictionary Project, led by Rotarian Gray Ives, is part of a larger Dictionary Project that aims to get a dictionary to every third grader in the United States. Rotarian Gray Ives explained, 'This is the seventh year participating in this project. We are one of many groups that support this mission.'
The Rotary Club distributed 200 dictionaries between the two schools.
'We look at it as supporting a bigger cause,' said Ives. 'Mary French, who started the Dictionary Project, had a vision to get dictionaries to all third graders in South Carolina,' he said.
Through Rotary, Kiwanis and other civic organizations, French has reached her goal and is hoping to get dictionaries in the hands of all third graders in the country.
Since 1995, more than 14.5 million third graders have received dictionaries, French said. French started the Dictionary Project in the Charleston area after reading a letter to the editor in the Post & Courier from Bonnie Beeferman of Hilton Head, who needed help with the requests she was getting to get dictionaries to students in her area.
French and her husband Arno French started the 501 (c)(3) in 1995. 'We have provided dictionaries to all of the third grade students in the state of South Carolina since 2000,' said French.
'The Dictionary Project is important to our community because it provides students with a dictionary so that they can have a resource to help them spell words correctly and learn the meaning of words they do not know that they come across in their reading and schoolwork. We have given everyone the opportunity to learn the 32,000 words in the dictionaries offered through the Dictionary Project so that the students can become self-reliant and independent. It is their personal responsibility to read their book and use it. It is a gift from the Rotary Club; they have been very strong supporters of education in this community. The power of the gift resides in the giving. The students receive the message from the visits by the Rotarians who present the dictionaries to the students, that they support their education and they want to see them succeed,' said French.
According to Ives, researchers found that third graders are not learning to really read anymore; 'they are just learning to 'read." This explains why dictionaries are given to third graders, as opposed to first and second graders.
The dictionaries provided by Rotary are more than just a dictionary. They also contain many resources such as maps, weights and measures, important American documents, state and country facts, and solar system information.
Kim Bertolini-Ciuffo, third grade teacher at Cainhoy Elementary, said, 'Every year we look forward to the Rotary Club providing our third grade class with dictionaries. I am so excited when the representatives come and surprise the students. The students love that they get to keep the dictionary for their own. A day does not go by that we do not use them. The students especially enjoy the dictionaries when completing daily journal entries.'
The six third grade classes at Daniel Island School have enjoyed the dictionaries.
Teachers have implemented the dictionaries into their curriculum and have come up with fun ways to use them in their classrooms. Charlotte Hammond, third grade teacher at Daniel Island School, said, 'We have enjoyed our dictionaries from the Rotary Club this year. They have been especially helpful when making word webs in our classroom. The students are given a list of vocabulary words every other week.They use their dictionaries to look up each word to understand its meaning and identify the part of speech. They then create their 'web' by writing the definition and sentence, the part of speech, and illustrating the word.'
Another third grade teacher at Daniel Island School, Colleen Murphy, agreed, 'Having each student have his or her own dictionary is great. They are so excited to look through them and learn new words. When I say let's look up how to spell the word, they are eager to pull out the dictionary.'
Visit www.dictionaryproject.org to learn more.