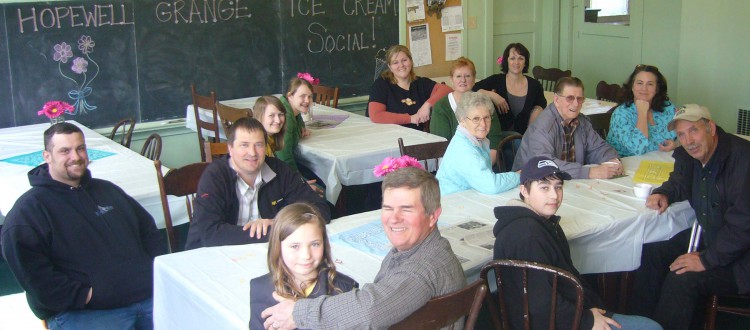 Ice cream social supports Dictionary Project
To celebrate Grange Month in April, with the national theme of "Connecting Communities through Service," six of the Granges in Whatcom County joined together the weekend of April 16-17, to host ice cream socials across the county to benefit the elementary school libraries and our own Words for Thirds program (aka The Dictionary Project).
The funds to purchase new books at many of the school libraries has been severely cut – even down to "nothing" at some schools. The $700 raised at this "first annual" ice cream social, while not a large sum, will help provide library books for all seven school districts in the county.
Whatcom County Granges supplied over 1,200 dictionaries during the 2009-10 school year. For the 2010-11 year, with the help of a Whatcom Educational Credit Union (WECU) grant, funding from the Kiwanis Club of Bellingham, a donation by the Whatcom County Association of Realtors, the sale of raffle tickets, and donations by the individual Granges across the county, we have distributed over 2,000 dictionaries to every third grader in Whatcom county! We also want to recognize the Lions Club of Lynden, who provided books for the Lynden School District this year.
A special "Thanks" to the Granges who participated in the ice cream social: Laurel #208, North Bellingham #210, Ten Mile #399, Haynie #169, Hopewell #518, and Rome #226.
School staff, primarily from the libraries, assisted as volunteers at the Granges. We especially thank Haggen, Banner Bank, Cash & Carry and Dodson's IGA for their contributions.