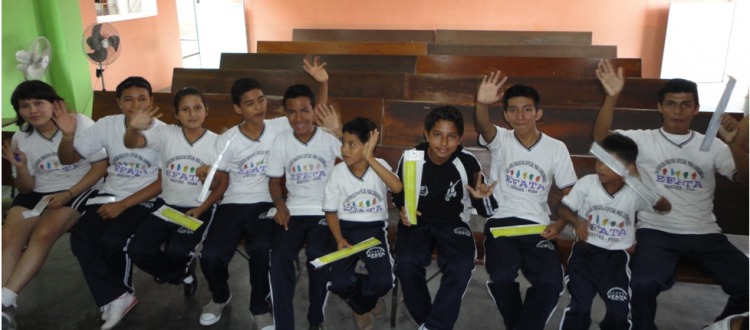 Blairstown Rotary presents the gift of knowledge to schoolchildren in Iquitos, Peru
Blairstown Rotary of District 7470 is excited to expand their Dictionary Project to include children in the Amazonian city of Iquitos, Peru. Rotarian and Dictionary Project Board Member Diana Krajewski was honored to present the Las Malvinas School and the Efata School with English/Spanish dictionaries. The children at the Las Malvinas School take classes in English as a part of their core curriculum and the new dictionaries will help with their studies. The children looked up the word "amigo/a" and found its counterpart "friend" in English. Las Malvinas is a public school housing grades K thru 12 and is located in Punchana, just outside the city of Iquitos.
The Efata School is a special needs school for hearing impaired children from the ages of six to 18. The school operates strictly on donations. The teachers and students were ecstatic to receive a gift of English/Spanish dictionaries and plan on incorporating the dictionary into their daily curriculum. We used the dictionary to look up words in Spanish and English then practiced spelling the words in American Sign Language.