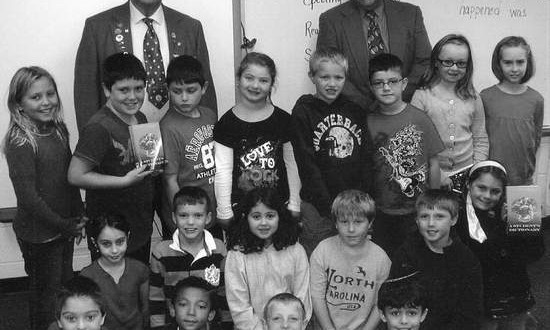 Elks Lodge donates dictionaries
Two burly men dressed in matching green club-jackets walk down the hallways of elementary schools every fall, lugging heavy packages in both arms. When students see them, their eyes are aglow with anticipation.
"They call us the dictionary guys," said Ogdensburg Elks Lodge member Jerry A. Reed, who along with George Kotz Sr. delivers free dictionaries to third-grade students at school districts in Ogdensburg, Heuvelton, Hammond, Lisbon, Morristown and St. Marguerite D'Youville Academy, a private Catholic school in Ogdensburg.
To raise money for the "Sheila Gwin Dictionary Project," the Elks Lodge, 322 Caroline St., will host its seventh annual roast beef dinner Sept. 15 from 4:30 to 7 p.m. Admission is $8 for the dinner, which will include mashed potatoes, vegetables and cake for dessert. Proceeds from the dinner will pay for the 340 dictionaries that will be handed out to third graders this month.
Since the Elks Lodge launched the Dictionary Project in 2005, more than 2,600 dictionaries have been handed out to youngsters in the north country, Mr. Reed said. The project, part of a national program run by more than 100 volunteer groups, aims to ensure every student has their own comprehensive dictionary, he said, encouraging them to hunt down words, write sentences correctly, use maps, and learn facts about the solar system and American history, such as short biographies of the presidents.
"The teachers are just in awe when we deliver the dictionaries," he said, "because they really help the students."
After handing out the dictionaries, the two lodge members ask the students questions that prompt them to look up words and find countries on maps.
They also show students the world's longest word, a whopping 1,909 letters, and then ask the teacher to spell it out, which always gets the students laughing.
The project is named after the late Sheila Gwin of Ogdensburg, who was a long-time elementary teacher and administrator at John F. Kennedy Elementary School, as well as an active member of the Elks Lodge. She helped spearhead the dictionary project in 2005, convincing lodge members that it would have a positive impact for young students in the community.
Described by Mr. Reed as a welcoming person who had a flair for telling jokes, Mrs. Gwin always took a keen interest in her elementary students, remembering their names and keeping in touch with them throughout the years.
He said many of her former students attend the roast beef dinner to support the project named after her.
"If there was anything in the community going on to help kids, she would always be the first one there," he said.
The best part of the dictionary project for Mr. Reed?
"Seeing the smiles on students' faces," he said. He said it never fails to put a smile on his face, too.
For more information about the dinner or program, call the lodge at 393-5430 after 3 p.m.