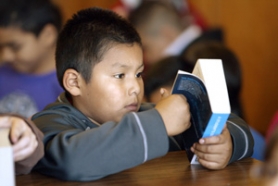 Elks provide dictionaries, smiles to students
Lodge helps local students better define learning
It wasn't a new video game, iPod or pair of sneakers that made Riley, 8, smile Sept. 29 — it was a new dictionary.
"It tells you stuff about what words mean," Riley explained as he and his fellow third graders at East Gresham Grade School "oohed" and "aahed" over their new prize possessions.
"I don't have to share it with anybody — it's mine!" he added.
In this case, Riley was right, because Gresham Elks Lodge 1805 wants each and every third grader in the Gresham-Barlow School District to have his or her very own dictionary.
As part of a national effort called The Dictionary Project, the Gresham members have been distributing paperback dictionaries to students over the past three weeks, hoping they'll use them to better their reading and writing skills.
"At that age, we are trying to help them understand how to build words," said Bill Hay, who joined fellow Elks Jim Foreman and Mike Sommers at East Gresham to distribute the dictionaries.
Hay noted the Elks had purchased 980 dictionaries, at a cost of $1,800, to give out this year. The Elks also donated $500 worth of school supplies, such as backpacks, markers, folders, notepads and pens and pencils. Hay told East Gresham Principal Tracy Klinger she could distribute the supplies to any children who needed them.
Klinger noted the third-grade teachers would incorporate the dictionaries into their classroom work.