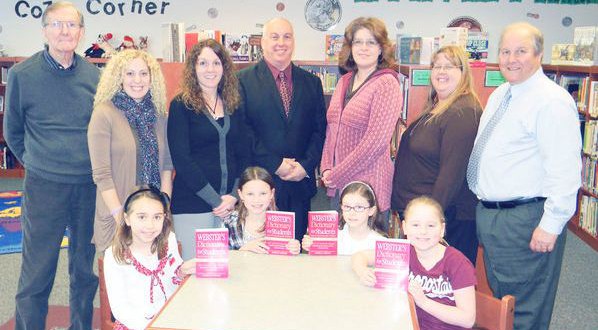 Jamestown Elks donate dictionaries at Fenner Elementary
Jamestown Elks Lodge # 263 donated 96 dictionaries to third-grade students at Fenner Elementary School in Falconer recently. The lodge has partnered with The Dictionary Project each year since 2002 and this year donated more than 970 dictionaries at 12 area elementary schools.
The chairman of the lodge dictionary committee is Past Exalted Ruler Abe Rosenberg, and the committee members are PER Rolland Phillips and lodge members George Marchini and Carl Mazzurco.
"I would like to thank Executive Director Randy Sweeny and the Jamestown Community Foundation for donating half the cost of the dictionaries," Rosenberg said.
Other elementary schools participating were: Bethel Baptist, Cassadaga Valley, Clymer, Frewsburg, Holy Family, Jamestown, Maple Grove, Panama, Pine Valley, Sherman and Southwestern.
The Dictionary Project is a national not-for-profit corporation that was incorporated in 1995 in Charleston, S.C. Since 1995 more than 17 million children have received free dictionaries.