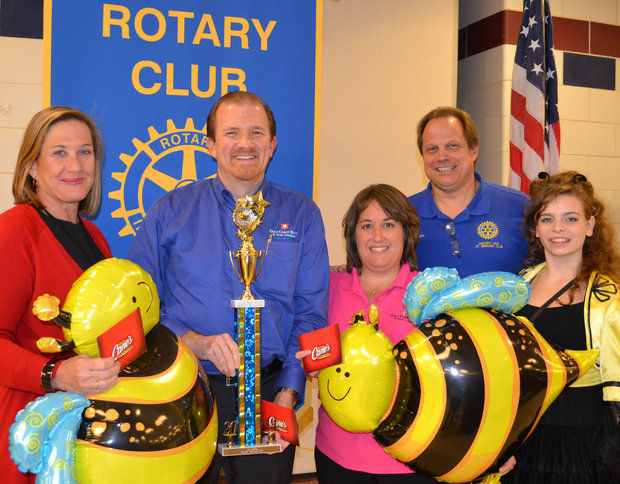 Rotary Club of St. Bernard Hosted Annual Adult Spelling Bee
Did you know that a flock a finches is called a charm? You would, if you had participated in the Rotary Club of St. Bernard's 14th annual Adult Spelling Bee. Hosted each year by the Rotary Club, the event is a fun fund-raiser to promote literacy.
Nineteen three-member teams representing a array of businesses and civic organizations took part in the event. Each teams' $300 entry fee as well as the money raised from a raffle and parade of prizes is given back to the children of St. Bernard.
Greg Noto, a local attorney and the President of the Rotary Club, said his group purchases and delivers dictionaries to third graders across the parish.
Superintendent of St. Bernard Schools Doris Voitier served as the enunciator for the spelling bee while judges Robert Buckley and Kirk Vaughn were the official judges. Domingo Del Reyes was the official timekeeper, and Chalmette High School 10th grader Giselle Canko served as the helper bee, the event mascot.
The CHS cafeteria was the site of the action, and Principal Wayne Warner deserves much credit for hosting the event and transforming the new school eatery into a festive backdrop for the proceedings. Credit should also go to the school's Interact Club, a community-service group for its efforts in making the event such a success.
And speaking of success, congratulations to Team Gulf Coast Bank on its victory. Members of this year's champion spelling team were Dale Williams, Jim Kyle, and Missy Plaissance. Team Noto took home second place and Team Valero finished third.
It was a good night for a good cause.
…
Article written by Barry Lemoine from The Times-Plaquemines
Read Here