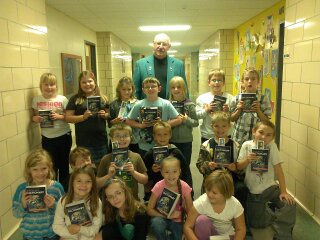 Ogdensburg Elks Lodge # 772 Donates Dictionaries to Local Third-Graders
The Ogdensburg Elks Lodge # 772 recently completed its 10th annual dictionary project after donating 270 dictionaries to third-grade students attending several local elementary schools in Hammond, Heuvelton, Lisbon, Morristown, and Ogdensburg, New York.

Lodge member Jerry Reed, who has been actively involved with the Lodge's project since its start in 2004, notes: "This will be our 10th year in your [The Dictionary Project's] program and trust me it is a big hit with the students and teachers…" Mr. Reed further adds, "…we are so glad to be part of a program as this."

Students show their appreciation and express their genuine thanks to Mr. Reed and the Elks Lodge for the recent dictionary donation in the following thank-you notes:

"Dear Mr. Reed,

Thank you for the book. I used it for spelling bees with my friends. And my friends liked it too. And they have one too. I used it for spelling things. And I hope you bring them again."

– From a student at St. Marguerite D'Youville Academy

"Dear Mr. Reed,

Thank you and the Elks for the dictionary. I use my dictionary for spelling words correct in school. Also I take it home and use it. again thank you for the gift."

– From a student at Hammond Central School

"Dear Elks Club,

Thank you for the dictionary's they are awesome. They help me spell words and help me read. I can see all the maps. I'm practicing the wolrds longest word a lot at reeces when we play inside. Thank you very, very much."

– From a student at Heuvelton Central School

The dedicated efforts of Mr. Reed and the Ogdensburg Elks Lodge to implement their project each year is most admirable and is truly demonstrative of both Mr. Reed's and the Elks Lodge's commitment to fostering the education of students in the local community.