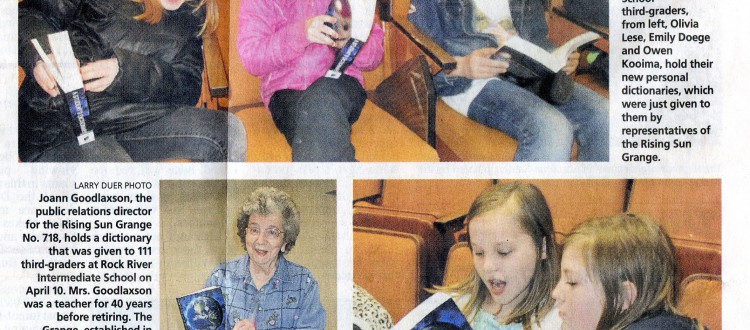 The Oldest Organization in WI, the Rising Sun Grange #718, Distributes Dictionaries
An annual community service project of the Rising Sun Grange #718 is to give a personal dictionary to every third grader in the Waupun Area School District. In April, five classes at Rock River Intermediate School were presented with a dictionary by Joann Goodlaxson, the Public Relations Director for the Grange. Mrs. Goodlaxson was a school teacher for 40 years before retiring. The Grange, established in 1867, is the oldest organization in Wisconsin. Both students and faculty of Rock River Intermediate School truly enjoyed the presentation and generous gift. Their appreciation was expressed in the May 2015 school newsletter:
The Rising Sun Grange annually donates a beautiful dictionary to each third grader at Rock River Intermediate School. This year was no exception, with David and Joann Goodlaxson generously spending time to bring the dictionaries to school and give a mini-lesson on the wonders of the dictionary. Joanne, a former WASD staff member, discussed the value of the handheld dictionary for young people. Despite many of them having access to technology, she is aware that there is value to the hand-held book.
One young reader was astounded to think he would be able to keep this book for himself! Another exclaimed, "I love this book!" The only thing that was missing from the Granger's dictionary presentation was Fred Krohn, long-time member of the Rising Sun Grange who recently passed away.
The Grange is based on three pillars: Agriculture, Family and Community Service. Fred Krohn embodied these principles and will be missed. The third grade students and staff at RRIS are very appreciative of this Grange service project.
Read More