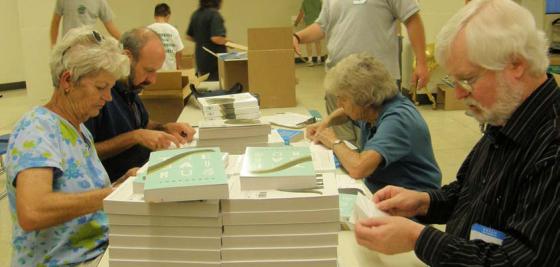 The dictionaries and thesauruses for the current school year have been labeled and are now in the schools. We encourage RNOs and neighbors of Denver Public Elementary Schools to contact their local school and arrange for a time to help distribute the books to the students. This is a great opportunity to express your support and meet the staff of your local school.
The labeling event was held at Morey Middle School again this year. Over 50 supportive volunteers responded to help with this task; our thank-you is extended to each and every one of them. Our sincere appreciation is extended to the staff and particularly the custodians who were so proficient in accommodating us. We could not have asked for a more cooperative staff.
We are particularly excited about the new, hot-off-the-press thesaurus that has strong Colorado roots. We were fortunate in getting the first shipment of the initial run of 10,000 books. The author is Sarah Hilgendorf of Colorado Springs. The design of the book is the result of information provided to The Dictionary Project, our book source, from our own Cathee Fisher, long time Co-Chair of the Dollar Dictionary Drive. Cathee wrote the foreword in the book that corresponds to a presentation-practice she uses when presenting the book to students. Many students have referred to the thesaurus as 'the dinosaur book' because thesaurus sounds much like some kind of dinosaur and that resulted in the inspiration for the new cover design of the book.
We are still faced with a major shortfall in funding this year's project. We need the help of all who can give to help make up that shortfall; please consider us if you have not all ready done so. Our grateful appreciation is extended to all who have helped so far. INC is a 501(c)(3) non-profit and therefore all donations are fully tax deductible. Donations can be sent to Dollar Dictionary Drive, P.O. Box 18347, Denver, CO 80218 or can be made on our secure website at www.neighborhoodlink.com/denver/inc (click on 'Dollar Dictionary Drive'). Join the hundreds of individuals who have made a donation as well as the RNO donors: ABC Streets Association, Alamo Placita, Baker Historic, Ballpark, Bear Valley Improvement Association, Bellevue-Hale, CHUN, Cherry Creek North, Cherry Point, Civic Association of Clayton, Country Club Historic District, Crestmoor Park HOA 2nd filing, East Montclair, George Washington H.O.A., Greater Park Hill, Harkness Heights, Hilltop, Historic Montclair Community Association, Hutchinson Hills/Willow Point, Inspiration Point, Mayfair Neighbors, North City Park Civic Association, Overland, Sloan's, Stapleton Master Community Association, University Neighbors, University Park Community Council, Virginia Vale Community Association, and West Washington Park.