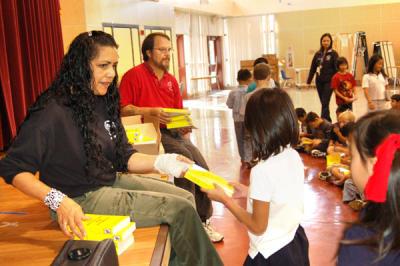 Third graders receive dictionaries from rink
Cal Skate of Milpitas owner Trace St. Germain and General Manager Didi Ford have delivered dictionaries to third-graders at all nine public elementary schools in Milpitas Unified School District.
In recognition of the Martin Luther King Jr. National Day of Service on Jan. 18, Cal Skate of Milpitas donated $1 for every full price admission the business sold from 1 to 4 p.m. that day toward The Dictionary Project, a non-profit organization dedicated to providing a dictionary for every local third-grade student. In addition, all glow stick sales that day were contributed to the cause and the business offered customers a choice of two free VIP skating passes ($32 value) or six free skating lessons ($30 value) in return for a $5 donation, which they accepted through January.
After tallying up all donations Ford said they exceeded expectations raising $3,177, enough money to purchase copies for all 780 third-graders in 2009-10, all 737 third-graders this year, and still have enough left over funds to buy four cases of copy paper for the nine elementary schools and a box for the district office.
`As a lifelong avid reader, I fully understand the benefits of kids having a dictionary of their very own to reference as they do their schoolwork,` Ford said. `The idea and the vehicle to achieve this goal came from Cal Skate and the Dictionary Project, but it was the members of our community who breathed life into this endeavor through their support and we would like to thank them all.`
For more information about donating to The Dictionary Project, visit www.dictionaryproject.org.