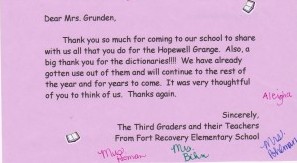 The Hopewell Grange noodle project
While attending the Ohio State Grange Convention in October, 2003, it was mentioned about giving dictionaries to 3rd grade students. Our Grange (Hopewell Grange 2688 in Mercer County) has always been interested in projects for community service and that sounded like a good one.
I went home very excited and the next Grange meeting I brought it up and we started the project.
We never took money out of the treasury, we always did special projects. We started with a flea market in 2004 and then garage sales. At these events we always sold homemade noodles.
When we started donating the dictionaries we only bought for Celina Public, Celina IC, Coldwater and Parkway because we had Grange members in those districts.
The past four years we donated for every 3rd grade student in Mercer County, approximately 2,553. The last couple years project has been supported just by making and selling noodles plus a few dollars from tips we receive at the Mercer County Fair.
We still hold our garage sales and fleas market but only the noodle sales goes for dictionaries. We meet at the Grange Hall and make our noodles about three of four days before each event.
When we get enough money, we order about ten cases of dictionaries and when they arrive we put labels in the front of each one "Donated by Hopewell Grange" and the date. We call each school and find out how many they need and ask them when we can come, and three or four of us Grange Members go to the school and hand deliver them to each student. We also tell them about the Grange and how we raised our money to buy the dictionary and also if they come to the Mercer County Fair they can eat some of our homemade noodles which we sell in our cafeteria during the Fair.
We then order another supply and do the same thing until we have visited every third grade student in Mercer County. To do this project each year, we need to make and sell at least 275-300 pounds of noodles which amounts to about 175 dozen eggs.
Received from Doris Grunden