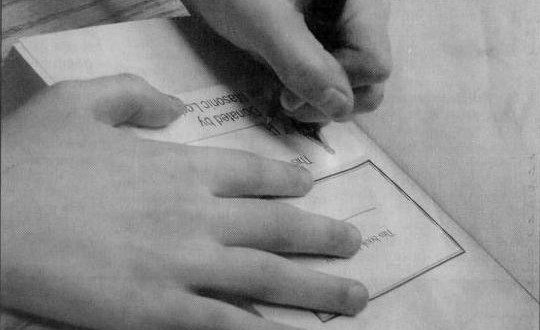 Sixth graders cheer for 'Webster'
Florence Masons donate more than 100 dictionaries to Siuslaw and Mapleton students
It was like Christmas came early for Siuslaw Middle School sixth graders, who each received a free dictionary donated and hand-delivered December 9 by members of the Florence Masonic Lodge.
'This is such a generous offer because I have some students who don't have dictionaries at home,' said sixth-grade teacher Shirley Raia.
Florence Masons gave more than 100 paperback copies of 'Webster's Dictionary for Students' to the school, the lodge's first time doing so.
Students personally signed their own copy before running off to page through the reference book, with huge smiles spreading across their faces.
'This is so awesome,' shouted a sixth-grade boy.
According to Raia, her classes use dictionaries almost daily. The school, however, has a limited supply.
Raia said students normally would check out a dictionary from the school's library or use one of her few outdated copies.
'This is so perfect,' she said. 'It could not have been better.'
Bernie Christensen, Florence Masonic Lodge senior warden, was one of the members on hand to deliver the gifts.
He said Masons have always stood for the basic rights that many people take for granted.
'We think our best effort to bring these tenets to all people is through education, particularly public education,' Christensen said. 'A basic fundamental of education is learning how to speak right.'
There are currently 178 Masonic Lodges in Oregon and approximately 30,500 total members.
The local lodge contributed another 24 dictionaries the following week to Mapleton School District students.
On November 23, Florence Rotary members also donated 105 dictionaries to third graders in Mapleton and Florence. This donation was part of the Club's annual Dictionary Project.