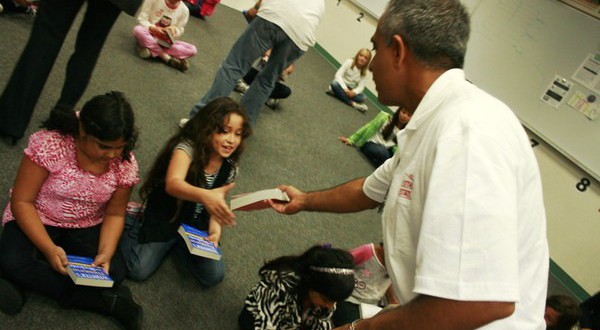 Realtors donate dictionaries, sponsor essay contest for New Haven third graders
For the sixth year in a row, a local real estate agent made certain that every third-grade student in the New Haven Unified School District was equipped with one of the most vital educational tools — dictionaries.
On Tuesday morning, Sunil Sethi and his partners surprised students by distributing more than 1,000 dictionaries to every third-grade classroom in the district. It was also the second year that each student received a thesaurus.
This year, Sethi is also encouraging students to participate in "The Year 2012 Essay Contest" to get students thinking about college and careers. 2012 is the year that current third graders will graduate from high school.
"We're very happy with the progress the district, teachers and students have made in raising schools' scores, but this year we want kids to start thinking more about their future," Sethi said. "We want to encourage kids to think with their parents/guardians and write an essay about what they want to do when they grow up."
Every student who submits a one-paragraph to one-page essay detailing what he or she plans to become — and how he or she plans to achieve that goal — will receive an recognition award. The essays will also be displayed in an online compilation and in books given to each third-grade classroom.
The deadline to return essays to their teachers is Nov. 10.
"We hope everyone goes to college," Sethi told students in the various classrooms he visited Tuesday.
In each classroom, he shared the story of Steve Jobs and how the late tech innovator almost dropped out of school in the fourth grade but was turned around by a teacher.
"She taught him the love of learning, and we hope you love to learn because you can be the next Steve Jobs," Sethi said.
The dictionaries proved to be a much-needed asset, according to some teachers.
"After the dictionaries were distributed, I surveyed my students. This is the first dictionary and thesaurus in their home for 27 out of 32 students in my class," Emanuele Elementary School teacher Kevin Packham stated in a district newsletter. "Pretty amazing donation!"
Sethi was accompanied Tuesday morning by realtor Steven Fong of Sunil Sethi Real Estate, local insurance agent Kristie Turner and Risha Kilaru of Prospect Mortgage. Though she wasn't present for "Dictionary Day," Alameda County Supervisor Nadia Lockyer also partnered with Sethi to provide funding for the books.
Sethi said the entire community should be invested in the education of its students.
"If you want to raise a home's value, you have to play with the following parameters: improve school scores, improve the neighborhood (reduce crime and improve neighborhood cosmetics), and improve the home's condition," Sethi said. "Only one of these is in your control, but the other two are more important factors, so it makes a lot of sense for homeowners to focus on helping students do better in school."
The district applauded Sethi for his continued support of its students.
"It's the kind of community and business partnership that we need more of," New Haven spokesperson Rick La Plante said.