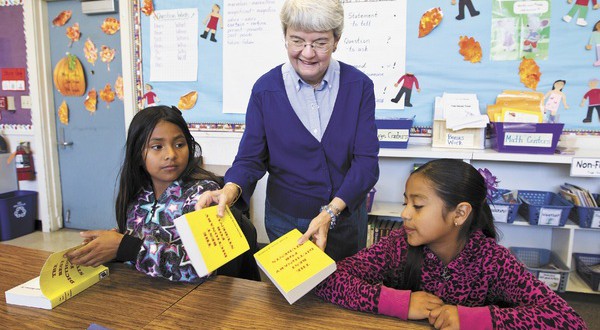 Linda Keetch's gifts carry an extraordinary value
When Linda Keetch read about The Dictionary Project in the Wall Street Journal in 2002, she knew it would be the perfect way to honor her late father.
"I thought dictionary … daddy," Keetch said.
As a result, Keetch and her husband, Brent, are now part of a nationwide movement with an ambitious goal: To put a dictionary in the hands of every elementary school student in the nation.
Since joining the project, the Keetches have distributed more than 5,000 dictionaries to third graders in the Lucia Mar Unified School District. The books are given to students when they reach the third grade because that's typically the point when they start learning dictionary skills.
The project is a natural fit for Keetch. She is a retired English teacher — she taught honors English at Arroyo Grande High School for years — and she grew up in a home with a great respect for languages.
Keetch's father, Michael Gamber, moved to the United States from Italy when he was just 7 years old. Classes in ESL — English as a Second Language — were nonexistent then, Keetch said, so her father taught himself the language of his new country.
"All of his life he loved both of his languages," she said. "I really do remember him reading the dictionary." Keetch's involvement with The Dictionary Project extends beyond donating funds to purchase the books. She also serves on the organization's national board of directors. And every fall, she and her husband visit every third-grade class in the Lucia Mar district's 11 elementary schools to personally distribute the dictionaries.
Keetch gives students a brief presentation; she tells them about her father and she gives a short lesson on how to use the reference books.
Cynthia Ravalin, principal of Ocean View Elementary School in Arroyo Grande, said the dictionaries are a huge benefit for students.
"You see them, year after year, in kids' backpacks," she said.
Her own son, a sixth grader, still uses his.
And no, computers haven't done away with the need for dictionaries. Even if they use a computer spell check program, students still need to know the definitions of words, Ravalin noted. Besides, the dictionaries are convenient; they can be kept close at hand as students are writing. And as The Dictionary Project points out, there's another advantage: "Only a dictionary can provide that delightful experience of looking up a word and getting sidetracked by all the other fascinating words on the same page."
By finding a way to share her father's passion for words, Keetch provides thousands of local students with an invaluable tool for learning that will never go out of style.
That fits our definition of an unsung hero, and we're proud to honor Linda Keetch for her work with The Dictionary Project.

About The Dictionary Project

The Dictionary Project began on a small scale in 1992, when a woman in Savannah, Ga., bought 50 dictionaries to distribute to children at her neighborhood elementary school. The idea caught on; today, the nonprofit operates in all 50 states and has provided dictionaries to more than 14 million schoolchildren. To learn more or to find out how to donate, go to www.dictionaryproject.org.

About the Unsung Heroes Series

While The Tribune seeks to celebrate our community's quiet heroes throughout the year, it's especially appropriate during the holidays, when we pause to give thanks, gather with friends and family and share the warmth and light that brightens our lives.
These unsung heroes are people who practice the Golden Rule and are passionate about their causes but seek no return for their actions other than the satisfaction that comes with helping others.
By highlighting individuals who unselfishly apply their energy and skills to lighten the burden of others, we hope, first, to offer these community heroes the appreciation they deserve; second, to let those who could use the help know of available resources; and, third, to inspire others who are able to help in whatever way they can.

Read more: http://www.sanluisobispo.com/2011/11/27/1850421/unsung-heroesopinion-of-the-tribune.html#storylink=misearch#ixzz1f6yKSLXc