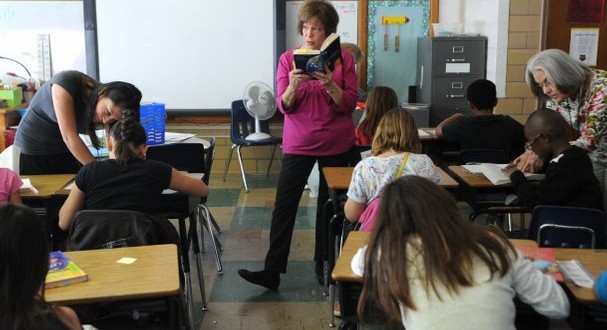 Bowie students find there's more to dictionaries than a lot of words
Bowie Elementary School third graders were eager and attentive as they learned about the dictionaries they received from Altrusa International of Abilene members Monday morning.
Barbara Pollock, service chairwoman for Altrusa, said the service organization adopted Bowie nine years ago and each year has given each child at the 600-student campus a book.
"It's really heartwarming because the kids are able to get books that they can keep," said Pollock, who taught first grade for 10 years at Bowie. "My goal next year is to do six other (elementary) schools for third grade."
Altrusans also read books weekly to kindergarten classes and this year started giving students a box of flashcards. Kindergartners received alphabet cards, first-graders addition cards, and second-graders subtraction cards.
Pollock, who was helped by Altrusa club members Ruth Thompson and Happy Collins, showed the students in teacher Crystal Victor's class — one of four third-grade classes at the school — how to use the dictionaries for more than looking up spelling.
Standing before the students, Pollock showed them how the dictionary could be used as a reference by turning to material in the back of the 524-page book.
There she found maps, information on states and countries, the Declaration of Independence and U.S. Constitution, presidents and planets in our solar system.
Students were encouraged to put sticky notes in their new dictionaries to help them find the helpful areas.
"Man, this book has a lot!" a boy blurted out after Pollock showed the book had maps of the world.
Pollock also dispensed interesting trivia as she went through the dictionary, which cost $1.75 from the Dictionary Project.
One of these was asking the students which U.S. president held office for the shortest period. She told the students the ninth president, William Harrison, served one month in the spring of 1841 after he died of pneumonia.
Pollock explained to the students that Harrison likely caught pneumonia after he gave the longest inauguration address, approximately more than 100 minutes, on a cold March day.
He would be the first of eight presidents to die in office.
"The lesson to be learned is don't talk too long, and wear your coat when it's cold," she said, causing the students to giggle.
Victor said her students — many who never have owned a new book — liked using the dictionaries to look up words.
"In our reading books, we have glossaries, and they asked if they could use their dictionaries instead of the books," said Victor, whose husband, Paul, teaches math at Cooper High School. "They're very sweet and helpful and try to help us in any way they can, which is really needed in the community."
Principal Tina Jones said she appreciates Pollock and other Altrusa members for giving their time to Bowie and raising funds for books through the school's monthly "Spirit Night" fundraiser at Chick-fil-A.
"The children love to see Altrusa when they come into their classroom," said Jones, who has been the principal at Bowie for four years. "And they've always received with a smile on their faces."