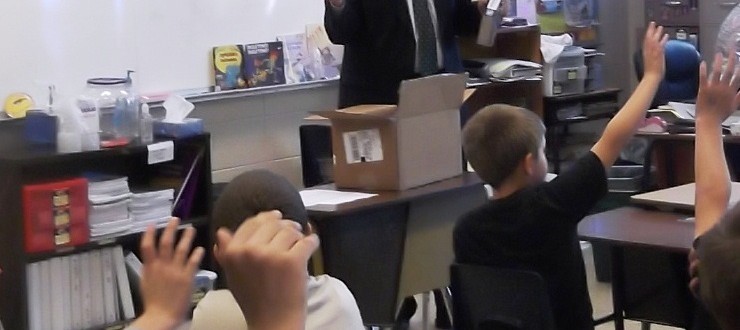 Clinton Rotary presents dictionaries to Henry County third graders
The Clinton Rotary Club recently donated new dictionaries to third grade students throughout Henry County. Members of the club visited eleven elementary schools to individually hand the dictionaries to the young students. This was made possible through the generosity and time that Rotarians dedicate to doing something special for the young people of this county. Educators see third grade as the dividing line between learning to read and reading for the sake of learning. Mrs. Erica McMillan, third-grade teacher at Holy Rosary, commented, "We use dictionaries all the time. Our reading series starts with dictionaries at the first of the year, and then we use them throughout the year. I've been so anxious to get them!"
From Oct 15 through Oct 18, 16 members of the Clinton Rotary Club visited the third-grade classrooms and presented 325 dictionaries to students, as well as to fourth- and fifth-grade students that had not attended third grade in the school. This is a complete dictionary as well as a resource book that will serve all the way through school. The book includes useful resources such as the Declaration of Independence, weights and measures, biographies of U.S. Presidents, the solar system, American Sign Language, maps, and the United States Constitution. It is hoped that most of the students will keep their dictionaries in their desks to use during the school year before taking them home to keep.
The goal of this joint program by the Rotary Club and the Literacy Council of Clinton is to assist students to become good spellers, writers, active readers, and creative thinkers. Schools visited include Clinton Intermediate School, Clinton Christian Academy, Holy Rosary, Windsor Elementary, Lakeland Elementary, Calhoun Elementary, Shawnee Mound, Leesville, Davis, Montrose Elementary, and St. Mary's Catholic School in Montrose.
If you know a Rotarian, take the time to say thank you for the money and time donated to enhance the education of the children in Henry County.