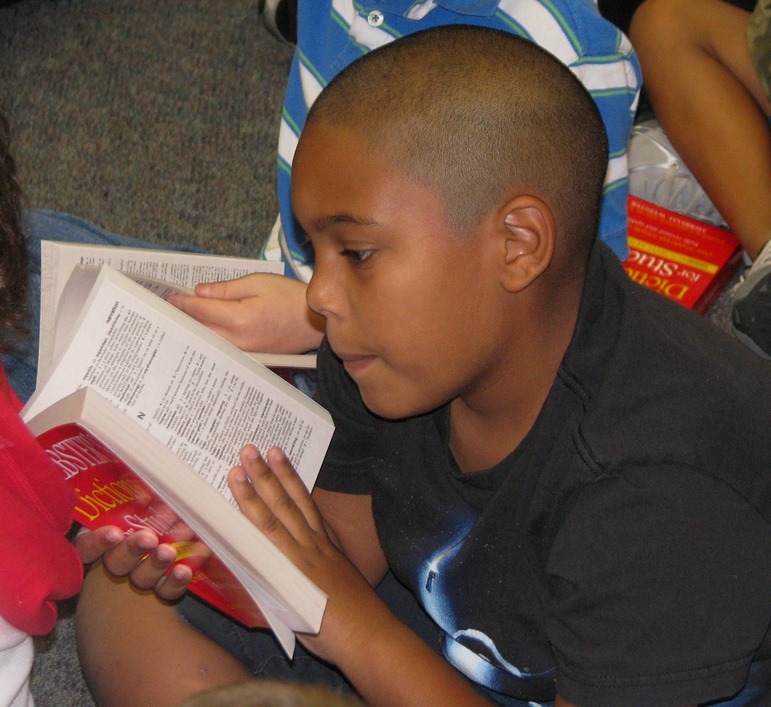 Local Rotarians give third-graders head start on test prep with new dictionaries
Continuing a project that's older than this year's recipients, the Cayce-West Columbia and West Metro Rotary Clubs presented students at Congaree Elementary School with gifts they'll use for years.

The clubs have partnered for nearly two decades to provide student-edition dictionaries to all third-graders in Lexington Two and Lexington Four school districts. Cayce-West Columbia Rotarian Karen Speer and Lexington Two Superintendent Venus Holland, a member of the West Metro club, visited Congaree Elementary on Tuesday to pass out about 100 dictionaries.

Holland said Rotary Club members aim to give back to their communities as she explained the mission of Rotary to the students gathered in the media center,

"We look for ways to help people whether they are students or adults," she said.

"We love doing this project," Speer said.

Approximately 950 students will receive the student Webster's Dictionary this year. Holland said the third-grade level is chosen because it is the first year that students take the Palmetto Assessment of State Standards test.

"We want you to get off to a good start," she said.
Students race to find their favorite words in new dictionaries given by the Cayce-West Columbia and West Metro Rotary Clubs. Photo by Rachel Ham.

Students race to find their favorite words in new dictionaries given to them by the Cayce-West Columbia and West Metro Rotary Clubs. (photo by Rachel Ham)

Congaree Elementary teachers ask students to use their dictionaries during English language arts instruction. Teachers find the student edition especially helpful for writing their assignments, as it lists synonyms for words they already know and allows them to expand their vocabulary.

"Using those different words is one way for them to show voice in their writing," Congaree Elementary Principal Jeff Becker said. "This is a book they'll use throughout their life."

Holland agreed that a dictionary can be a valuable resource for students long after they've moved out of third grade.

"I know middle school and high school students who still have this dictionary," she said.

The brand-new dictionary written on their level wasn't the only gift given to Congaree Elementary students. The project's primary business sponsor Chick-fil-A provided each student with a coupon for a free kid's meal.

Before heading back to class, Holland asked the students to write their names in their dictionary and flip through it to find an interesting word. Favorite ones called out by students included "freedom," "chocolate," "Mexican" and "pyramid."

The free dictionaries, which the students can take home, are made possible by Rotary members' dues and The Rotary Foundation, the charitable branch of Rotary International.

Extra dictionaries were ordered to give to students in Jasper County as well, Holland said.